Georgia Procurement Ranked #1 in Nation
By: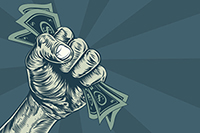 Georgia has been ranked #1 in the nation for its procurement function by Governing Magazine. Detailed results from a new nationwide survey conducted by Governing shows Georgia received top honors in nine of ten purchasing categories, including statutory authority, public policies and procedures, e-procurement systems, agency and vendor engagement, training and certification, open bidding processes and contract administration. 
Gov. Nathan Deal said in a statement, "I am proud of Georgia's leadership in our procurement practice, which is a critical factor in the state's competitiveness and economic development. This award acknowledges the hard work and effort of the entire team at the Department of Administrative Services."
The Georgia Department of Administrative Services (DOAS), which provides procurement services to state agencies and local government entities, will be presented an award by Governing Magazine at a reception held in conjunction with the National Governor's Association meeting on Feb 20th in Washington DC. 
For the full press release, click here. 
To view the detailed article in Governing Magazine, click here.