Driver Emergency Resources
When You are Covered
For liability insurance, all state vehicles are uninsured. We instead insure state employees using the vehicle while performing official state duties. If you use the vehicle while doing personal business, the state does not cover you. And should you have an accident, you would be personally responsible for all damage and injuries you cause. Questions: Contact wade.damron@doas.ga.gov or call 404-463-7982.
Latest Advisory
For areas impacted by inclement weather, experiencing pipeline issues, or undergoing fuel shortages, WEX will send a list of fueling stations with the latest purchase at that location. 
Had an Accident?
First, call your supervisor and then report the accident to Netclaims at 877-656-7475.
State Vehicle Damaged?
Call Netclaims at 877-656-7475 and let them know you are making a claim for damage to the state vehicle. Be sure to reference the vehicle's VIN (last 6 characters) or the full state ID number.
Injured?
Contact your supervisor as soon as possible. Show your Georgia Liability Insurance Identification Card. (See Relevant Documtns below.)
Need a Wrecker? Roadside Assistance
Call WEX Roadside Assistance at 866-329-3471. You will be asked to provide your PIN. (See Roadside Assistance Information, below.)
Call ARI at 800-CAR-CARE (800-227-2273). You will be asked to provide the vehicle's ARI ID card or the last 8 characters of the VIN from your state vehicle.
Fuel Card Program
The state fuel card can only be used to fuel state owned, leased or daily rental vehicles and only for the performance of official state business. Violators are subject to discipline, including termination and prosecution.
A person who is subject to the punishment and penalties of this subsection shall be fined not more than $1,000 or imprisoned not less than one year nor more than two years, or both.
A person subject to punishment under this subsection shall be guilty of a felony and shall be punished by a fine of not more than $5,000 or imprisonment for not less than one year nor more than three years, or both.
Questions? Contact jazzmin.randall@doas.ga.gov or 404-651-7263.
Trouble at the Pump?
Call WEX: for English: 800-842-0071, for Espanol: 888-437-6022. If your fuel card is not working at the pump, you can get a one-time approval by contacting WEX. You will need to provide the card number and your PIN.
Maintenance Issue?
Call ARI 800-CAR-CARE at 800-227-2273. You will need your vehicle's ARI ID card or the last 8 characters of the VIN. (See Active Vendor List under Relevant Documents below.)
Need to contact the Fleet or Risk Managers at your agency?
See the Fleet Risk Contacts document under Relevant Documents below.
WEX Help Desk
Call WEX Strategic Support at 800-726-0492.
Looking for the Lowest Fuel Prices in Your Area?
Download the WEXCONNECT App to find the lowest fuel prices in your area. Find service locations and stations offering diesel, E85, and CNG.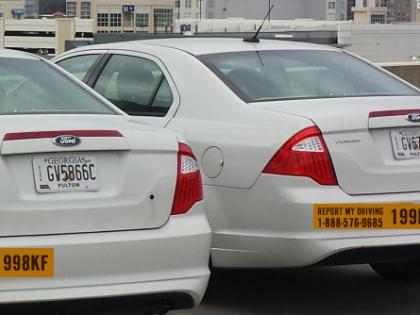 Contact Fleet Management Division