How to Obtain Fuel Within Policy Guidelines
Each state entity has a designated Fuel Card Administrator, typically a fleet manager, who is responsible for policy compliance and administration of the fuel card program within their respective state entity. If you work for a larger state entity, you may delegate some of these responsibilities to a Card Program Coordinator within your team.
Complete policy details — including fuel vendor selection, permitted octane rating, odometer recordings, and other documentation requirements — can be found in State of Georgia Fuel Card Standards and Guidelines. The state-issued fuel card is the only one authorized to buy fuel for state-owned vehicles.
The Fuel Card Administrator should review the Fuel Card Policy for compliance requirements and guidance for successful program implementation. Administrators are responsible for:
Developing internal policy governing the use of the fuel card in compliance with the Fuel Card Policy, Policy 10 and the Fleet Manual
Ensuring the reporting of suspected misuse or fraud is reported to OFM immediately upon suspicion
Ensuring all drivers have taken the Fuel Card Policy training and signed the Acknowledgement form prior to issuing a driver fuel card PIN.
Terminating the fuel card when it is reported to be either lost or stolen Administrator and the Fuel Card Administrator shall terminate the card in WEX Online
Reviewing all fuel card transactions, at least monthly, using WEX Clearview, to ensure drivers follow current published policies regarding the purchase of fuel and other items that may be purchased on the fuel card
Each state entity is responsible for:
Coordinating any exceptions to the State Fuel Card Standards and Guidelines with approval from Office of Fleet Management
Establishing written fuel card account security procedures
Establishing written procedures to ensure that misuse or fraudulent use of the fuel card is documented.
Developing a training program for all employees and supervisors/approving officials
Establishing internal procedures covering how to use the fuel card and entering accurate vehicle odometer readings.
Monitoring employee PINs for inactivity and deactivating PINs that are no longer needed.
Monitoring card usage to determine cards that are being underutilized or that should be canceled.
Establishing billing discrepancy handling procedures, including the handling of disputed transactions to ensure timely payment of the monthly bills.
State fuel cards may only be used to buy fuel for vehicles or equipment owned, leased, or rented by the state. As your organization's fleet manager, you are expected to be the expert on the rules and responsibilities for using fuel cards.
Georgia offers two types of fuel cards, both issued by WEX Bank, that are appropriate in different circumstances:
Named for the background image of a waterfall printed on the card, it is used for primary fuel tanks of state vehicles and equipment. Drivers or operators must record the odometer reading each time they buy fuel, whether manually or by using the automated processes in the Fleet Management System.
Named for its solid red background, it is for filling secondary storage tanks, portable tanks, and other specific circumstances. Red card transactions must be logged on Form OFM-FC002, which may be audited. There is a higher level of reporting responsibility for Red cards since transactions must be manually recorded.
Assign fuel card PINs (Personal Identification Number) to drivers once they've watched the Fuel Card Policy training video and completed the Statewide Fuel Card Standards and Guidelines for Drivers Policy acknowledgement certification. The PIN allows the driver to purchase fuel with a card assigned to the WEX Account operated by their entity.
The PIN serves as the signature of the driver to whom it is issued. Under no circumstances may a driver use the fuel card for personal purchases, including fuel for personal or nonstate-owned vehicles. Such use will result in disciplinary action, up to and including termination and criminal prosecution. O.C.G.A. §50- 5-80 provides for criminal penalties for misuse of a state fuel card. Any driver who uses the card for personal purchases under $500 is guilty of a misdemeanor. A driver who uses the card for personal purchases of $500 or more is guilty of a felony punishable by up to 20 years in prison.
Supervisors or other approving officials who knowingly, or through willful neglect, approve personal or fraudulent purchases are subject to the same disciplinary actions as fuel card users.
The Fuel Card Program Manager, State Purchasing Director and the DOAS Director of Fleet Management may withdraw any authority or delegated approval due to non­compliance with applicable laws, rules, regulations, policies and procedures.
As the fleet manager, you or someone you designate, must review and approve each month's fuel card transactions. This must be completed for the Office of Fleet Management to perform its oversight duties by the 10th of each month.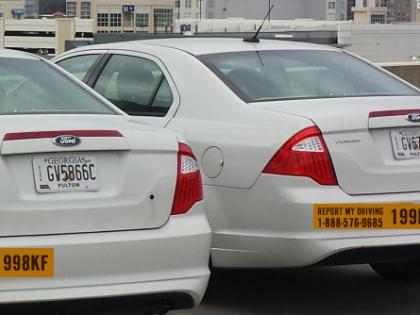 Contact Fleet Management Division