Choosing the right type of vehicle acquisition is a decision you'll make based on your agency's unique needs once you complete a financial analysis and comparison of options.
If you only need a vehicle for a short time, you may choose to either rent one or receive reimbursement for personal vehicle use. If you need a vehicle long term, you may choose to either lease or purchase.
Consider your agency's situation and needs. Make a financial comparison using the information below.
Open the Vehicle Acquisition Options Chart to find the right option for your agency.
Answer the questions listed in the chart to determine the best option for your agency.
If you have long-term vehicle needs, you'll need to determine whether it's financially better to lease or purchase one.
Lease: Compare the cost of leasing to purchasing to demonstrate which is a better deal. Include lease terms, number of years, and financial obligation per year in the documentation using the Leasing a Vehicle flowchart.
Purchase: Get a price quote, vehicle availability, and specs using dealer information from a Statewide Contract vendor (SWC), or review the vehicle requirements with your Agency Procurement Officer (APO). See the Purchasing a Vehicle flowchart. Or,
If your vehicle of interest is not offered on a statewide contract, review the vehicle requirements with your Agency Procurement Officer (APO) and obtain a waiver from the State Purchasing Division to bid for the vehicle. Your APO will bid for the new vehicle in the Team Georgia Marketplace and execute a contract with the selected supplier.
If you decide to use the AMIGI (Automobiles made in Georgia Initiative) contract option to purchase a vehicle, have your APO obtain separate bids from 3 Kia AMIGI contract dealers.
Use the Fleet Management System to create a vehicle request form. Upload the vehicle specs, pricing (quote/bid), waiver (if vehicle is not on statewide contract), and justification for non-compliance for maintenance and fuel requirements, if applicable (per Policy 10).
Monitor your request in the Fleet Management System as it moves through the approval process.
Related resources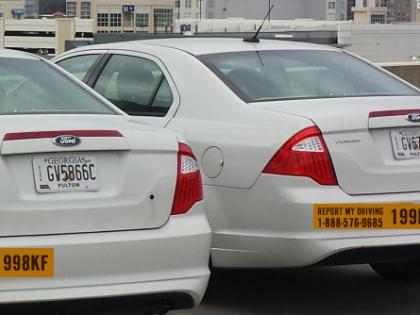 Contact Fleet Management Division