How to Get Certified as a Minority Business Enterprise
A Minority Business Enterprise (MBE) is a designation for certain minority-owned small businesses. Becoming an MBE has several benefits, including increased subcontracting opportunities, networking opportunities, educational resources, and individual coaching.
To become an MBE, you'll first have to apply with the Georgia Department of Transportation (GDOT) to become a Disadvantaged Business Enterprise (DBE). Once you're approved, your information also will be stored with the Georgia Department of Administrative Services (DOAS), and your business will be a certified Minority Business Enterprise.
Your business must be small as defined by Small Business Administration standards
Your business must have annual average gross receipts less than $28.48 million over the previous 3 fiscal years
As the owner of the company, your personal net worth (not including primary residence and ownership in the business) cannot exceed $1.32 million
You must belong to at least one minority group:

African American
Asian American
Native American
Pacific Islander
Hispanic/Latino
Name and basic contact information of your business, including address, phone, email, and website
Brief description of the products and services your company provides
Relevant North American Industry Classification System (NAICS) codes for your business
Federal tax ID number
Number of employees
Gross receipts for the previous 3 years
Information about the company's owner, including name, address, minority group, financial ownership of company, and any relationships to other companies
Information about the company's officers and board of directors, including name, title, date appointed, minority group, gender, and duties
Inventory of company property, including equipment, vehicles, office space, and storage space
Company financial and banking information
Signed and notarized affidavit from each company owner
Download the application and personal financial statement from the Georgia Department of Transportation website.
Complete the application, personal financial statement, and include all required supporting documentation specified in the application.
Each owner must sign and notarize the Affidavit of Certification included with the application.
Mail your complete application packet to GDOT at the following address:
Georgia Department of Transportation
One Georgia Center
600 West Peachtree NW
7th Floor
Atlanta, GA 30308
When GDOT receives your application packet, it will be checked for missing documentation. If more than 4 documents are missing, your packet will be returned. GDOT may contact you to ask for additional documentation or information.
If your packet is complete, GDOT will assign a DBE coordinator who will arrange a date and time to conduct an on-site or virtual visit to verify documentation.
If approved, GDOT will send you a certification letter and your information will be listed in the DBE Directory on the GDOT website.
As long as your application packet is complete, processing time should take about 90 days. If you are missing documentation or information, the process may take longer.
If you are denied certification by GDOT, you can appeal the denial to the U.S. Department of Transportation within 90 days from the date you were notified.
Visit the Team Georgia Marketplace™ registration system. Click on User Registration.
Follow the prompts within the Team Georgia Marketplace registration system to register your business.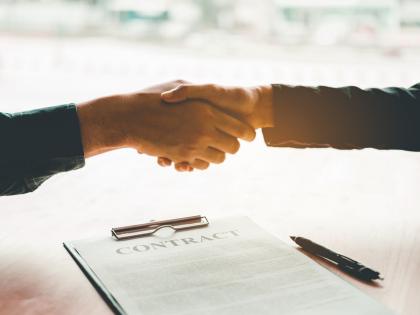 Contact State Purchasing Division